By
ctr-lib
- Mon May 09, 2011 11:58 pm
- Mon May 09, 2011 11:58 pm
#2965339
hi all
i purchased in jan 2011 a 2005 night hawke black ep3 in mint condition the plan was to keep it standard but that lasted 2 minutes, then about march 2011 at santa pod i destroyed my clutch down the strip i managed to get her home though thats when the majority of the modifications came.
the pictures are from various meets and shows ie JDM north meet, Santa pod fast
comments and opinions welcome
THE CURRENT SPEC
interior
Double din head unit
Skunk 2 gear knob
Custom leather interior (red/black)
Mugen pedals
Pro sport oil temp and pressure gauges
Corbeau pro series bucket seat and custom subframe
4 point 3" TRS harness
OMP targa suede steering wheel
Momo boss adapter
D1 spec snap off boss
exterior
Custom tow hook
Jdm wind deflectors
Seibon carbon fiber bonnet
17 x 8 Rota torques
225/45/17 federal RSR semi slicks
engine and gearbox
Tegiwa carbon fiber intake
Tegiwa red silicone intake hose
Tegiwa red oil breather pipe
Fujitsubo RM1OA cat back
4-2-1 Manifold
Es engine mount inserts
Polyflex gearbox mount
Exedy stage 1 clutch
Competition lightened flywheel
Mfactory LSD
Mfactory bearings
Mfactory 5.46 final drive
Mfactory magnetic sump plugs
Carbon synchros
Tegiwa short shifter
Skunk2 aniversary oil cap
Mugen socks
Refurbed cam cover
Custom RBC
Hondata intake gasket
Tegiwa throttle body gasket
Throttle body heater delete
Hondata kpro
CWM baffle sump insert
Mocal 19 row oil cooler kit sprayed black
Carbon fiber sparkplug cover
Carbon fiber slam panel cover
suspension
Meister zeta r coilovers
Grinspeed geo
D2 rear camber arms
Buddy club RCA'S
Super pro castor increase bushes
Progress 24mm rear arb powder coated in red
Progress rose jointed rear droplinks
brakes
4 pot Brembos
DS2500 front brake pads
Brembo grooved front brake discs
Mintex rear brake pads
Mintex drilled and grooved rear discs
HEL braided lines
AP 5.1 brake fluid
SHOPPING /TO DO LIST
Cams????
new drop links all round
new track rod ends
polybush rear suspension
refurb brembo brakes
Tidy up paintwork
A full detail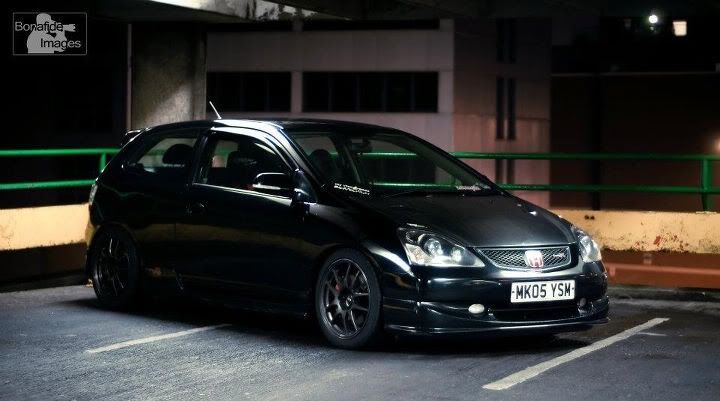 And a cheaky picture from fast show 2012 with nuts models
more pictures to come.
Last edited by
ctr-lib
on Mon Mar 30, 2015 8:09 pm, edited 64 times in total.
2005 CIVIC TYPE R (Warptec installed
)