By
Omni
- Fri Nov 17, 2006 6:21 pm
- Fri Nov 17, 2006 6:21 pm
#1392826
And xenons
First off, there are no 'before pics' because every camera I picked up had flat batterys and I was getting pissed off, so I just went ahead and started, but i'm sure we all know what the front of a Pre-facelift NHB CTR looks like by now.
After searching for many months on ebay and the For Sale sections of various forums for a set of facelifted headlights it seemed like the chances of picking a pair up 2nd hand for decent money were slim, so I took my heart in my mouth and phoned Honda for a quote -
"Err, yeah, they're about 90 quid each I think mate..."
"You think?"
"yeah, they're about that..."
"Umm..can you give me a definite price (figuring there must be some mistake because they're way too cheap) because if they're that price I want to order some"
"Yep, thats £188 for the pair including VAT"
"BARGAIN! I'll take some of those please..."
So the lights arrived two days later and I picked them up, a quick comparison to mine shows straight away that the sidelight and indicator bulb holders are different, and i'll need the seals which didn't come with the lights, so I make a shopping list and go back to Honda to order the necessary parts. These arrive at the weekend and I pick them up - Another £65 worth but as the lights were way cheaper than I imagined i'm still happy.
In between all this I have ordered a 6000K HID H1 Kit from a guy on ebay for the bargain price of £95 inc delivery - Now I know what you're going to say, cheapest isn't always best, what about after sales service, guarantee etc etc. Well, he got recommended to me by a friend at work who has had 5 kits off him for various different cars, and the only problem he's ever had was a ballast which didn't work - and it was replaced the next day without question. They have 12 months warranty on bulbs and ballasts so for that price i'll take a chance.
I order some HB3 bulbs for the mainbeam from another guy on ebay £7 the pair (Halfords had these in at £20 each!

) and some LED sidelights from another guy for £2
Everything arrives by the weekend and i'm almost ready to get cracking.
So I strip the car down :-
The wiring plugs on the original loom do not fit the new style indicator bulb holders and as far as I know you can't buy the new plugs seperately - ie they're part of the loom so you'd have to buy the loom..So I went to a scrapyard and found some suitable plugs for the indicators from a Spacewagon People carrier side-repeater, of all things, and you will also need some plugs to plug into the HB3 bulbs, I sourced these from a Lexus, but they were tricky to find as not many cars in my local scrappy used these bulbs.
The height adjustment motor plugs plug straight in, but I found that because they're in a different place to the old lights, once you've plugged the motors in the sidelights won't reach to plug those in - so I had to extend the sidelight wiring by about 6 inches. I cut off the old indicator plugs and spliced the spacewagon plugs onto the loom - Then I put in a 30amp fused 4 pin switching relay and wired it up so that the headlights stay on when you switch to main beam. Mr Bilko has already done a wiring diagram (I will come back and link to it but the forum is being sh-t at the minute and taking ages to search)
So with the wiring all done and taped up so its nice and neat, I put the headlights in for a test fit :-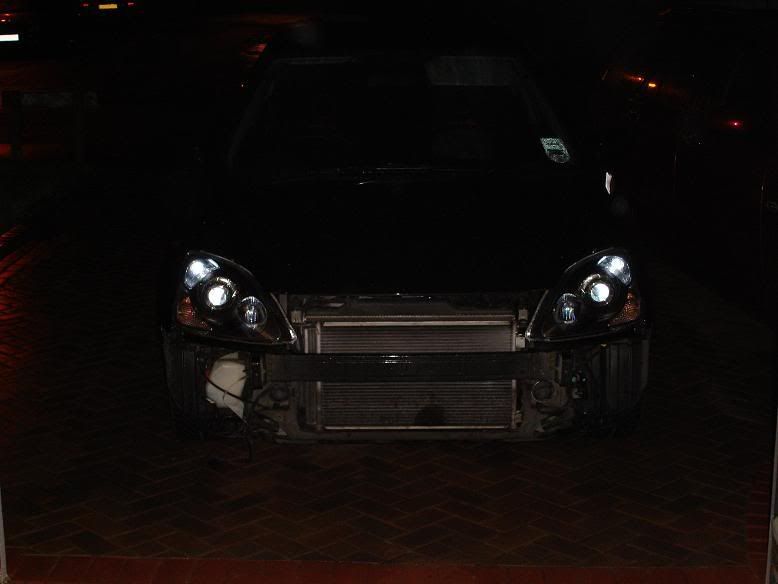 As you can see, I mostly work in the dark, this is because i'm so impatient and cannot possibly wait until the weekend to finish it...
Let there be light.
Everything worked, so I put it back together, I fitted the xenon bulbs to the headlights before I put them in the car for ease of fitment, I didn't modify the original bulb holders I just bent the pins so they would hold the xenon bulbs - and it seems to be working fine. The Ballasts are mounted on top of the inner wings and the wiring is very straightforward.
Bumper back on
The photo's really don't do the xenons any justice, they are awesome and anyone in any doubt about which ones to go for, 6000K is perfect.
And that was my little adventure for this week....Well chuffed with the results, not a straightforward Mod, well, not as straightforward as you might think, but not too difficult once you've sourced all the parts.
For anyone who's interested in doing the same I can supply you with a list of part numbers to take to Honda, just a couple of bits you need to be imaginative with and get down the scrappy
Last edited by
Omni
on Fri Nov 17, 2006 6:29 pm, edited 1 time in total.