As much as I'd like to forget the experience, I all too vividly remember the last time I went to a nightclub. Specifically, I recall that sinking feeling as it dawned on me that I was far too old for that kind of racket.
I got a flashback to that sensation on my first acquaintance with our new Honda Civic Type R under the stark, unforgiving strip lights of Autocar's multi-storey car park.
I still love the idea of hot hatchbacks that are quick enough to scorch the asphalt upon which they drive, but I'm the wrong side of 40 and can't help but worry that this might be a car aimed at keen drivers of a younger vintage. As you'll see from the picture above, I'm more at home in a Japanese peace garden than a Japanese banzai hatch.
I mean, just look at it. I'm not saying I don't like it, but it's impossible to slip down to the shops to buy crumpets and Ovaltine without drawing attention to yourself. You'd be less conspicuous wearing Borat's mankini to a wedding.
I haven't got time to justify the presence of those ostentatious wings, fins and splitters by explaining to each person who tuts and rolls their eyes that they add real aerodynamic effect (albeit perhaps not at town centre speeds).
It isn't just the looks that make me worry that the marriage between the new Civic Type R and I could be a tempestuous one.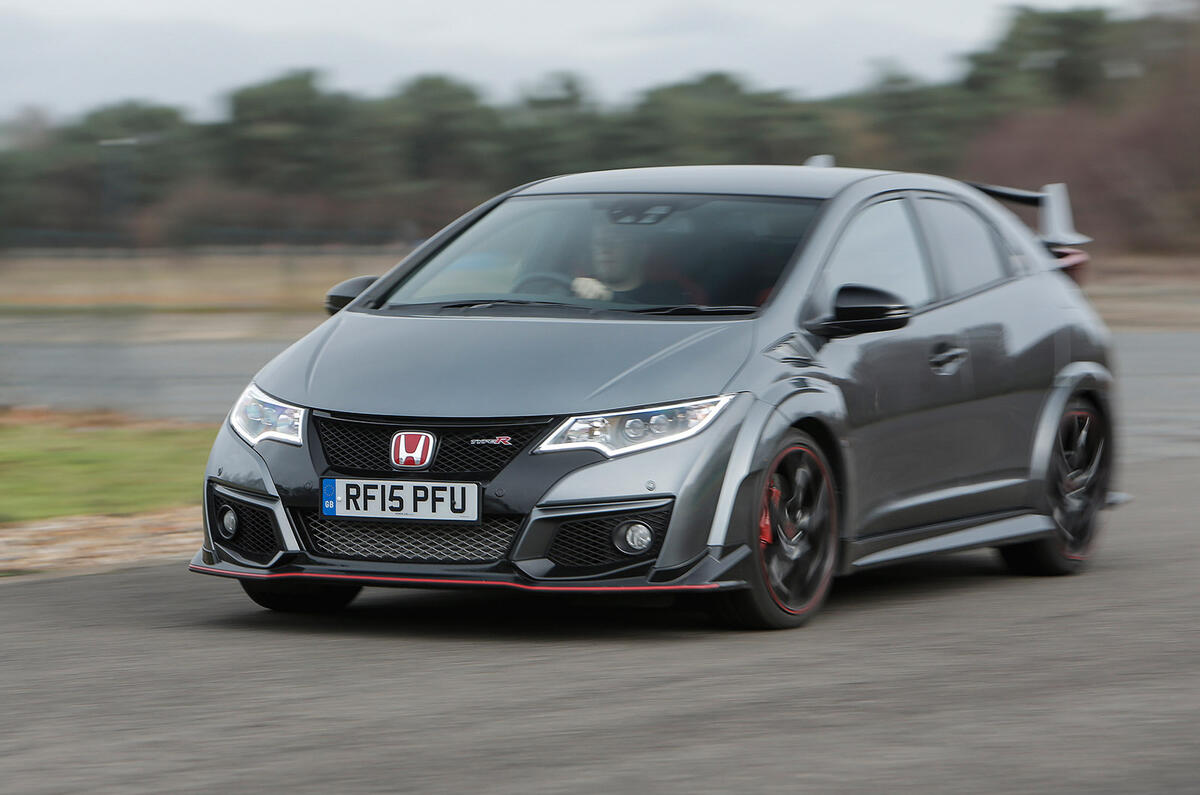 As I awkwardly try to reverse my hind quarters over the lip of the bucket seat, it dawns on me that the Type R was probably designed to accommodate drivers with more slender and agile physiques than mine.
Like a gruff nightclub bouncer turning away hopefuls because he suspects their mere presence inside his venue is going to be an atmosphere quencher, the Civic Type R appears to be saying: "If you can't even get in, you're too old."
And it might have a point. I gripe and groan like a grandma as I discover that the thinly cushioned sports seat pinches me a bit around the upper back area and lacks sufficient adjustment for me to get truly comfortable.
I faff at adjusting the thick-rimmed, sporty steering wheel to a position I prefer, only to find that while it allows a perfect view of the rev counter, that chunky rim obscures the digital speed readout on the top of the dashboard, and Honda doesn't believe in an old-school analogue speedo. "What speed was I doing, officer? About 3750rpm in sixth, as it happens."
As first dates go, this one has gotten off to an awkward start. I press the starter button to the left of the steering wheel, snick into gear and set off. Only then do I begin to get it.
The effect of driving the Type R is akin to that of a youth-restoring elixir. Synapses crackle, neurons pulse and the driving enthusiast that's hard-wired into me fires back to life. Those gripes and reservations described above? Forgotten and forgiven within the first couple of miles.
By the time I reach a quieter stretch of open road, I'm wide-eyed and fully awake. I give the throttle a cursory prod and ohmygodthisthingisquick. My fast driving skills are on a par with those of Gordon the Gopher, but this car is making me feel like BTCC champ Gordon Shedden. And I haven't even dared to press the vampish red '+R' button that sharpens and stiffens the suspension and steering like automotive Viagra.
I rapidly warm to the prospect of living with the Honda. The question is whether I can keep up with it, or exploit anything like its full capabilities. Indeed, back at home, my pulse rate normal and the hairs on the back of my neck now subsided, I think more soberly about what we intend to learn from our Civic Type R over the coming months.
Among the key questions to be answered will be whether this Japanese rocket, which gamely routes its 306bhp through the front axle alone, is a match for the class-standard, all-wheel-driveVolkswagen Golf R.
It certainly needs to be, because our Honda – an upper-class GT model, which means it has a host of kit on top of the already comprehensive standard spec – comes in at £32,820 once our sole option of metallic gunmetal grey paint (£525) is included.
The starting price of a five-door, six-speed manual Golf R is £31,475. That's devoid of options but enough to turn the heads of hot hatch fans, and it's not as if the VW is spartan inside as it is.
That's just the start of the challenge facing the Civic Type R. During our time with the car, we'll also become well acquainted with the new Ford Focus RS, another highly credible and competitively priced pretender to the hot hatch throne.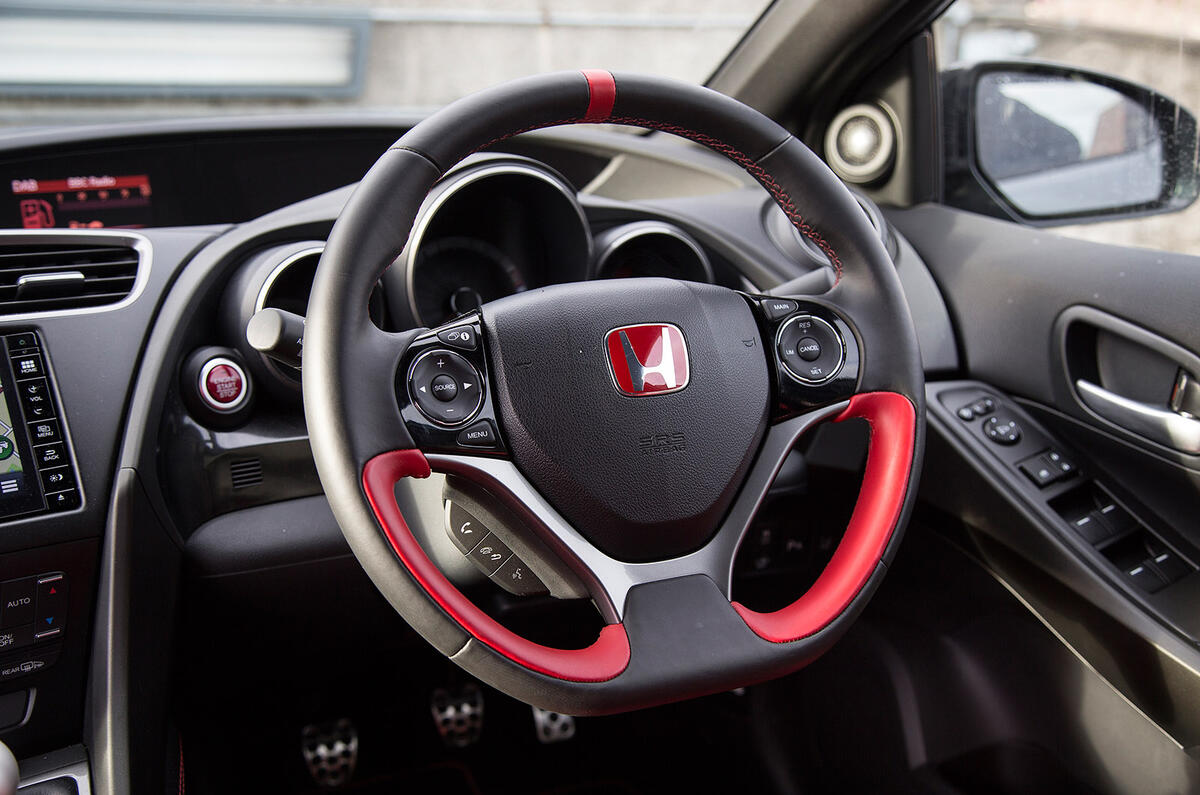 Then there's that new turbocharged engine under this Honda's bonnet. Sure, we're anticipating improved miles per gallon and reduced emissions compared with the VTECs of the past, but does it still sparkle and thrill like those fantastic normally aspirated units?
Does the Honda make financial and practical sense in the face of its broadening glut of rivals? Can we find merit in the Type R's raucous nature, or is it a thuggish one-trick pony that's too compromised for everyday life? Does it invoke smiles of joy or scowls of frustration, or a mix of both?
The next six months will answer those questions and either reinforce my impending mid-life crisis or rejuvenate my passion for the type of brazen hot hatches I lusted after (but was too poor to afford) in the 1990s.
The car: Honda Civic Type R
Needs to: Be fun to drive, but practical enough to live with every day
Run by Autocar since: January 2016
Honda Civic Type R 2.0 i-VTEC GT
Price £32,295; Price as tested £32,820; Options Polished metal paint £525; Faults None; Expenses None